June 22 pinned as the date for the next iPhone unveiling?
This article contains unofficial information.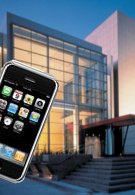 With iPhone OS 4.0 targeting a release time frame during the summer, there is a likelihood that Apple would debut the next incarnation of the iPhone between now and then. One of the potential dates being pinned for the unveiling according to ModMyi is June 22 – as it's rumored that Apple has booked off the date at the Yerba Buena Center for the Arts. In the past, WWDC has been known to be held in the close by Moscone Center West where they've done their keynotes, but its June schedule has been anything but solid as an unnamed event that was originally scheduled for June 28 has been modified to be moved to June 23. Ultimately, the speculated event has been completely removed altogether from the Moscone Center West. The Buena Center for the Arts was the same exact venue that Apple used to debut the iPad – so they may very well do the same for the next iPhone.
via
Electronista