July Android platform numbers show KitKat gaining steam
12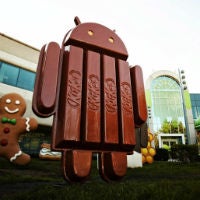 It is once again the first Monday of the month, which means it is time for Google to update the Android platform distribution numbers in order to help developers know what the app-using population of Android looks like. And, as has been the recent trend, KitKat continues to gain steam, while other versions of Android take the hit.
At the
beginning of June
, we saw that KitKat jumped an impressive
5.1
% from 8.5% in May to 13.6%, and at the same time, all other major versions dropped. This month, KitKat is once again up, and now makes up 17.9% of the ecosystem. That's solid movement for an Android update. KitKat is up 12.6% since April, and shows no signs of slowing down, especially with Android L not coming for at least another two or three months. In terms of the other Android versions, everything is on the decline, as we said. Jelly Bean (Android 4.1-4.3) is now down to 55.5% from its peak of 62% back in March. Ice Cream Sandwich (Android 4.0) slipped a bit to 11.4%, and Gingerbread (Android
2.3
) is down to 13.5%.
With most major manufacturers promising Android L updates to current flagships within three months of its release, we may not see KitKat rise to the levels of Jelly Bean or Gingerbread, which both peaked at over 60% of the ecosystem. But, it should still be interesting to see how high KitKat can get.