Judge in ITC case gives initial determination in favor of Motorola over Apple
16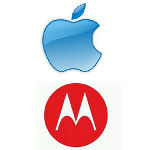 In a case brought by
Apple
against
Motorola Mobility
in front of the International Trade Commission, an administrative law judge made an initial determination in favor of Motorola, ruling that the latter
did not violate three patents
belonging to the Cupertino based firm. Scott Offer, senior vice president and general counsel of
Motorola
Mobility said, "
We are pleased with today's favorable outcome for Motorola Mobility. Motorola Mobility has worked hard over the years to develop technology and build an industry-leading intellectual property portfolio. We are proud to leverage this broad and deep portfolio to create differentiated innovations that enhance the user experience
."
The initial determination by the Administrative Law Judge is just that, an initial ruling. To be entered as a final decision, the entire ITC must review this decision. Apple has been accusing Motorola and other companies of using patents and copying designs from the Apple iPhone and the Apple iPad. Motorola has taken Apple to court in Germany accusing the tech titan of infringing on Motorola's patents for existing technology used for
synchronization for Apple's iCloud service
. The ruling in that case was also in Motorola's favor.
As we told you, Motorola has to decide whether to seek a preliminary injunction that could
halt the sale of some Apple products in Germany
until a finall decision is made. If Motorola decides to seek an injunction, it will be required to post a bond in case the original decision is overturned. The amount of the bond would be
equal to the amount of sales that Apple might lose
from the injunction, over time. That works out to $16.2 billion which leads many to expect Motorola and Apple to work out a settlement in that case.
source: Motorola