Judge freezes New York City's eHail app for Yellow Cabs until March 18th
1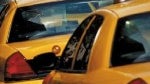 If you live in Manhattan, you know that at certain times of the day, or during horrible weather conditions, trying to hail a taxi cab becomes a competitive sport. Unless you throw yourself in front of the cab, you might not have a shot at grabbing one. But a smartphone app devised by New York City called
eHail
was supposed to launch on Friday and allow those smartphone owners who installed the software to request a Yellow Cab and receive back a confirmation from the driver, who would receive the request for the taxi.
Screenshots for Hailo, an app used to hail a cab in cities like Boston and Chicago
The app is now
frozen
until March 18th because of a lawsuit filed by the private livery car companies. Unlike the Yellow Cabs, which pick up passengers on the street, the livery cars are summoned by phone calls from prospective passengers, requesting a specific time and place where they should be picked up. Livery cars cannot pick up those hailing a cab on the street, but Yellow Cabs cannot pick up a passenger who makes a call to reserve a car.
The livery cab companies have sued the city over the eHail app and Manhattan Supreme Court Justice Carol Huff needs time until March 18th to decide whether or not the city's app is legal. Both sides will return to court then. The livery companies say that the eHail app is a threat to their business since it is similar to phoning in a request for a cab which is business that is supposed to belong to them, not the Yellow Cabs. The attorney for the livery companies, Randy Mastro, was "gratified by the decision made by the judge to temporarily freeze the launch of the app. Huff is the fifth judge assigned to the case. Some recused themselves and one was removed by the city after he hinted that he would vote against the plan.
There are 13,000 licensed Yellow Cabs in New York City and other cities have launched apps like
Uber
and
Hailo
to help smartphone owners hail a cab using their handset. Hailo is used to hail a cab in such huge cities like Boston, Chicago, Toronto, London or Dublin.
source:
Yahoo