Judge fines himself for contempt after his smartphone disrupts court
30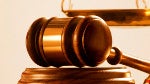 Judge Raymond Voet in Michigan has a policy in his courtroom posted for all to see. In Ionia County 64A District Court, any owner of an electronic device that goes off in the middle of court and creates a disturbance, will be cited for
contempt of court
. The judge must have been livid when he heard a phone asking for voice commands right in the middle of a prosecutor's closing argument. Then, he realized it was his own phone and his emotion changed to one of embarrassment.
It seems that Judge Voet had been a
BlackBerry
man for years and wasn't familiar with these new-fangled touch screen phones and might have set it off by accidentally bumping into it. "
I'm guessing I bumped it. It started talking really loud, saying 'I can't understand you. Say something like Mom
,'" he said. Still, he had no choice but to fine himself $25 for contempt of court during a break, even if it was an accident.
"That's an excuse, but I don't take those excuses from anyone else. I set the bar high, because cellphones are a distraction and there is very serious business going on. The courtroom is a special place in the community, and it needs more respect than that."-Judge Raymond Voet
In the past, the judge has taken away handsets from cops, attorneys, witnesses and friends. His final words on the matter? "
Judges are humans
," he said. "
They're not above the rules. I broke the rule and I have to live by it
."
source:
AP
,
Telegraph
via
Pocketlint