Jon Stewart talks with Siri about workers' conditions at Foxconn
47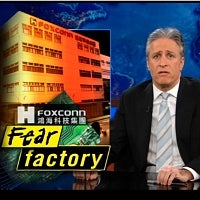 Apple tried to come clean last week,
issuing a document auditing the conditions at its suppliers' factories
, and placing a few on monitoring status, which some other tech companies that assemble in China are doing as well.
That, however, might have given Jon Stewart's writers an idea about last night's show, and hilarity ensued. Using a 2010 CNN report about
the conditions at the giant assembler Foxconn
, which puts together most iPhones and iPads, among numerous other gizmos, Jon Stewart tried to shed light on the issue.
There is always controversy around Foxconn's workers treatment, so no wonder that
the company is planning to replace a lot of them with a million-strong robot army
, and we are not kidding. Jon Stewart, however,
entered a dialog with Siri about Foxconn
, and the resulting snippet from last night's show, called "Fear Factory", is good laughs, Rick Perry's accent impersonation notwithstanding.