John Chen gets a vote of confidence from BlackBerry's largest stockholder
37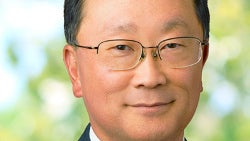 https://www.phonearena.com/Fairfax Financial is BlackBerry's largest stockholder, which means that Fairfax Chairman and CEO Prem Watsa has a lot of input into what goes on with the Canadian smartphone manufacturer. In fact, Watsa had a lot to do with Chen getting the gig back in November 2013, when he replaced ineffectual Thorsten Heins, In a 24-page letter to Fairfax Financial stockholders sent out earlier this month, Watsa wrote one paragraph about BlackBerry's turnaround. The company is approaching breakeven on a cash flow and earnings basis.
Part of the letter dealt with the licensing agreement that BlackBerry made with manufacturers in Indonesia, China and India. The best part of the deal as far as BlackBerry is concerned, is that the company receives a royalty on each unit sold. BlackBerry no longer has to worry about things like inventory, marketing, and the supply chain. BlackBerry just needs to deliver software to the appropriate manufacturer.
The glowing letter from Watsa acknowledges the role played by Chen as the turnaround specialist plugged the holes that were causing BlackBerry to bleed red ink, mostly from smartphone manufacturing. Making the transition to software has saved the company. We should learn more about BlackBerry's evolving turnaround on Friday when the company reports its fiscal Q4 earnings. Check in on Friday to read how well BlackBerry did during the three month period.
When Chen was first hired at BlackBerry, he was considered an interim CEO. With things improving at BlackBerry, and Watsa giving him a thumbs up, there seems to be no rush for Chen to exit.
"John Chen recently completed three years since he took over as CEO of BlackBerry in November 2013. Since that time, John has brought the company to breakeven on a cash flow and earnings basis. His confidence is reflected in the fact that he retired $645 million of the $1.25 billion of outstanding 6% convertible debentures and replaced the rest with 3.75% convertible debentures, non-callable for four years. We rolled our $500 million of 6% debentures after collecting a 4% early redemption fee. During the year, John got out of the manufacturing of smartphone devices and replaced it with licensing arrangements beginning in Indonesia, then China (TCL Communications) and then India (Optimus Infrastructure).

These arrangements result in BlackBerry receiving a royalty payment for each phone sold for its BlackBerry software and name. BlackBerry continues to be the gold standard for security for mobile devices. John continues to work on leveraging this capability while expanding BlackBerry's enterprise business, the Internet of Things (BlackBerry Radar) and QNX. Recently 451 Research came out with a report on BlackBerry – ''BlackBerry is Back''. Worth reading. We continue to bet on John!"-Fairfax Financial 2016 Shareholders Letter
source: CrackBerry