Jet Blue names its inflight Wi-Fi service Fly-Fi
5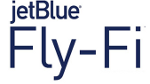 Back in 2011, JetBlue said that it would offer in-flight Wi-Fi on its fleet. Then, last September, the airline said that its in-flight Wi-Fi was coming. Well, the service is still not available, but at least we know what it will be called. At an analysts' meeting on Wednesday, the company introduced
Fly-Fi
. Sort of catchy and easy to remember. In fact, it just might be the perfect name for the service.
JetBlue Fly-Fi (see, we're using the name already) is powered by Exede internet which is owned by ViaSat. To show off the speed of the service, the airline produced a video which you can see below, that compares Fly-Fi to other services like GoGo, Row 44 and Panasonic's service. JetBlue, as you might expect, says that its service is the fastest.
Some of the usual regulatory things need to be done after JetBlue tests the service. The FCC, for one, will have to sign off. And while there are other airlines that charge for in-flight Wi-Fi, JetBlue is going to make it
free
on its flights.
source:
Slashgear