Jelly Bean now running on 49% of all Android devices
24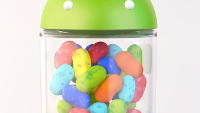 Another month goes by, and as always,the folks over at Google have released their latest numbers on theusage of its OS. Those are mostly targeted at developers, but there'sno rule saying that we can't take a peek, too.
First and foremost, we're happy tonote that Android Jelly Bean is getting real close to the 50%threshold, or in other words – half of all devices on the droidplatform are now running a version of Jelly Bean, mostly 4.2.1(36.5%), while the newest Android 4.3 only accounts for 1.5% rightnow. Neither of these numbers appear surprising in the least –Jelly Bean is by far the most polished of all major updates, and ithas proven to work just fine even on less potent hardware. We would, however, definitely like to see more devices leave the now dated 4.2.1 buildand move onto 4.3, though this has traditionally proven problematic.
On the other hand, super-old versionsof Android, like Gingerbread, are still pretty popular, at 28.5%.These include all the legacy devices that are still operational,though we're still seeing new devices coming out with the OS, mostlyin China and India.
At 20.6%, Android 4.0 Ice CreamSandwich has a fifth of the market, though we expect a good number ofthose to start making the jump to Jelly Bean sooner or later.Unfortunately, there are quite a few ICS devices out right now whohave been officially cut off, so that's that.
In case you weren't aware, Googlealso reports figures covering the swath of different screen sizes andthe pixel densities that exist in the Android universe. While it'simpossible to call the exact split, we can nevertheless extrapolatesome information, like the fact that despite the recent predominanceof large screened devices (e.g. 4.7'' plus), nearly 90% of thepopulace has to make do with a screen estate anywhere from 2- to 4.5-inches. Really puts things in perspective, doesn't it?
source: Google