Jelly Bean now on 25% of Android devices
31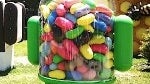 Starting with the release of the new charts, Google has changed the way it collects information for the monthly Dashboard release. Back in the day when Froyo and Eclair were the current builds, Google took information from Android phones each time they checked in to Google servers. Now, the data comes from phones as
they visit the Google Play Store
. This should result in more accurate information.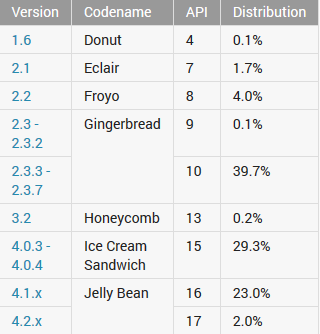 Gingerbread is still the Android OS build most in use
The first monthly report to use the new data collection method shows that 25% of Android users are now sporting a device powered by Jelly Bean which is Android 4.1.x to Android 4.2.x. But 39.8% of Android users are still powered by Gingerbread with
39.7%
holding a model running Android 2.3.3 to Android 2.3.7. So the majority of Android devices are still being driven by a 30 month old build. Right behind them is Ice Cream Sandwich users with 29.3% of Android devices.
By next month, we could see Jelly Bean take over second place from Ice Cream Sandwich, but it is going to take some more time before enough Gingerbread users upgrade to a new phone to change which Android OS build is at top.
source:
Google
,
AndroidDeveloper