Jason Mackenzie talks about the All New HTC One on TV, says "a leak is never good"
27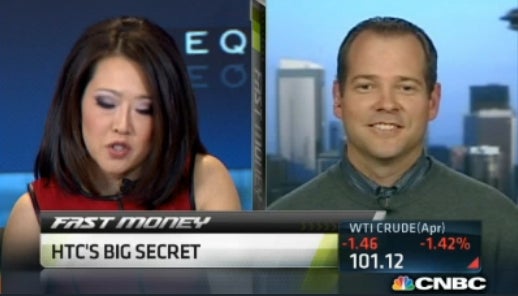 HTC America president Jason Mackenzie today talked to CNBC about the company's current and future smartphones. After mentioning that the
old HTC One
was voted
the best smartphone of 2013 at MWC 2014
, Mackenzie said that "the best is about to get better" on March 25. As you probably already know, that's the day when the
All New HTC One / M8
will be officially announced.
When asked if all the leaked photos and videos (see
here
and
here
) which are allegedly showing the new HTC One are indeed revealing the real handset, the HTC exec said that "a leak is never good", but it can be "a good indicator of the excitement around" a product. He added that the company never comments on rumors and speculations.
The CNBC host then asked Jason Mackenzie if he thought that the award received by the 2013 HTC One could help the company regain its lost market share. Here's the answer:
First and foremost, we've got to deliver great products, and that's what HTC is all about - delivering innovative products […] and we do it with a great design. Really, you pick up an HTC phone versus a competitor, it's like comparing a Rolex to a Timex. We've got strong partner support from all the carriers and retailers in the US, and we really feel like we've got a strong plan to make our next flagship extremely successful with our customers.
In case there's someone who doesn't know, Timex watches are usually affordable, while Rolex watches are expensive, luxury products.
Jason Mackenzie also reiterated that HTC would focus on bringing a "premium experience" to mid-tier and pre-pay markets in the US, besides concentrating on marketing the new One flagship.
The CNBC video with Jason Mackenzie can't be embedded, but you can watch it at the first source link below.