Japanese researcher has a different idea for wearable tech
3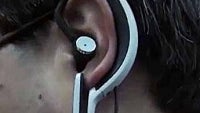 All the rage about wearable tech is centered on what we can put on our face or wear on our wrist, but another area that should not be overlooked is what we wear on our ears.
You would not be alone in thinking that our Bluetooth headsets, paired to our smartphones, already fit that niche. To a point, you are correct, but direct interaction with the smartphone is required to get anything channeled to your earpiece, be it music or navigation.
Think of something a little more autonomous, like in the movie
Her
. Embedded in this creation by Kazuhiro Taniguchi of Hiroshima City University, is a device that has a compass, barometer, speaker, microphone, gyro-sensors and GPS. It is called Ear Switch.
In the concept video below, it takes on a role of an augmented audio reality of sorts. The device is meant to be interactive too. It will be able to pick up subtle inputs from the user by how he or she opens their mouth. Tied together with head movements, the combination of commands can provide traffic information, point-of-interest information or directions.
So much of the content we deal with in mobile is visually related, but the Ear Switch has a form factor that is discrete. Mr. Taniguchi showcased the device at a business fair this past January. He is hoping to team up with a major manufacturer to bring this device to market sometime in 2015.
source:
Mashable