J.D. Power: U.S. consumers are more satisfied with the Apple iPad than any other tablet
38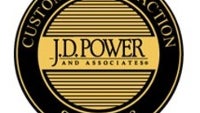 According to a survey conducted in the U.S. by J.D. Power, the Apple iPad has been named the top tablet for customer satisfaction. This is the third time that Apple's tablet has won the J.D. Power's U.S. Tablet Satisfaction Study, and it was the only slate to score a perfect five in the Power Circle ratings. Low-cost tablets did play a part in the drop in the overall satisfaction score from 853 in 2012 to 835 in 2014. These cheaper devices also drove down the average price from $390 in 2012 to $337 in 2014.
Behind Apple's overall score of 830 (out of 1000), was Samsung. With a score of 822, the two rivals were only eight points apart. Asus and Amazon (820 and 817, respectively) were both also in the running, while Acer tallied a 769 score.
The decline in overall satisfaction over the last three readings has been led by a decline in ease of navigation. From 2012's 8.52 score (out of ten), the latest survey showed a reading of 8.30. Also befuddling consumers, has been the process of adjusting the settings on a tablet. That score has declined from 2012's 8.50 to 2014's 8.30. It also takes 62 minutes for a consumer to initially set-up a new tablet, compared to 55 minutes in 2012. This indicates the increase in pre-loaded apps and features available on today's tablets.
How are consumers deciding which tablets to buy? 50% say that they now rely on the reputation of the brand, up from 42% six months ago. 47% turn to the manufacturer's web site for guidance, while 46% listen to recommendations from friends and family.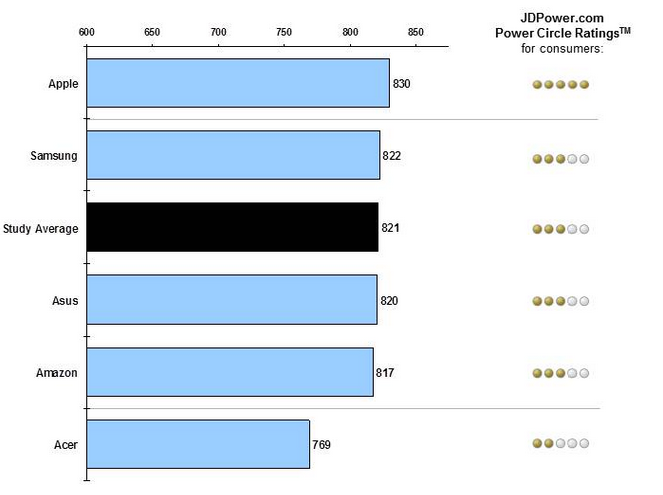 U.S. consumers are more satisfied with the Apple iPad than with any other tablet
source:
JDPower
via
AppleInsider