It's time for some FaceTime over 3G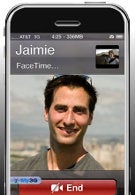 Back in June, Apple made an attempt to reinvent video calling with the
introduction of its iPhone 4
and the
FaceTime
feature. As well-executed as it is though, FaceTime has always had one definite drawback, and this is its inability to run over 3G, restricting your use to whenever a Wi-Fi hotspot is available. Of course, Apple has done that with a reason (mobile networks not ready to carry video calling the way Apple wants it yet), and it has promised it would be bringing FaceTime over 3G next year.
However, it seems there is a solution for those who simply need to have some video connection over 3G right now. It's called
My3G
and is a
$3.99
app that's for sale at the RockYourPhone app store. In order to get it though your iPhone 4 needs to be jailbroken.
What My3G does is to convince your phone that it is using Wi-Fi, while it is actually using 3G. So simple, yet so brilliant. Another cool use it may have is to let you watch high-quality YouTube videos over 3G, for example. To top it off, the app features some nice setting that allow you to choose whether or not a certain application should be using it.
You can get the My3G app
here
.
via:
MobileCrunch