Is your iPhone taking pictures without your permission? You're not alone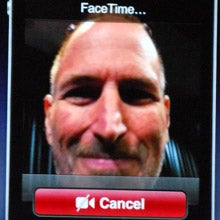 Seeing an image of yourself while onvideo call qualifies as plain creepy in our weird glitches rating,but it seems quite real as this Apple forum thread has generatedthree pages of users sharing this very complaint: while on Facetime arandom picture pops up and it's nothing that you've shot, but rathera photograph the spooky iPhone seems to have captured on his own. Theimage doesn't appear in the Camera Roll and the issue seems hard toreproduce due to the random occurrence.
Below is a first-hand description ofthe issue:
"My boyfriend and I have bothrecently experienced this problem several times - when one of us iscalling the other via FaceTime, an old picture freezes on our screen,while the person receiving the call only sees a black screen. It'skind of creepy, because it brought up photos of both of us at work,where I have used FaceTime a few times but he never has. We're justwondering how/why this is happening, and if there is a fix. It's notterribly inconvenient, but it's definitely unsettling, where is seemsthat even if we haven't taken a picture or used FaceTime, the camerais keeping images."
As unlikely as it all sounds, the amount of complaints has grown. Could your iPhone be spying on you? We wouldhate to go into any conspiracy theories, but we would love to hearback from you – has this happened on your iDevice? Let us know inthe comments below!
source: Apple Discussions via Huffington Post