Is this the elusive Microsoft Lumia 850?
23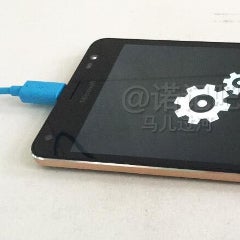 In smartphone terms, it took Microsoft an age to deliver an updated flagship with specs to compete with high-end devices on Android and iOS. Fans of the Windows platform finally got their wish last year with the unveiling of the
Lumia 950
and
950 XL
. In the build up to their announcement, another handset -- known unofficially as the Lumia 850 a.k.a 'Honjo' -- was also being touted. Though said device is thought to have now been scrapped, some new images of an unreleased Microsoft smartphone have been leaked. With a slick, elegant overall design, it's a handset that many will hope still sees the light of day.
Where Google and Apple have battled fiercely for supremacy in the mobile space, Microsoft has long been on the periphery. Redmond's Lumia range has focused its attention almost squarely onto the mid-range crowd, which has in turn forced those seeking a powerful experience to look elsewhere.
Although the leaked snaps of the purported Lumia 850 likely offer a glimpse of what might have been, there's always a chance that Microsoft will release it to market. Shared by
nokibar,
the device is said to host a sizable
5.4
-inch display, along with an iris scanner. As can be seen from the images, there's a micro USB slot, meaning no Continuum support, along with space for two SIM cards and microSD expansion.
The black device appears to be comprised of glass or the trademark glossy Lumia polycarbonate, with a rose gold-looking metallic trim around the
edge
.
Take a look, and let us know if you'd be interested in a device like this via the comments.