Is this a Samsung Galaxy Note 3 with dual LED flash?
26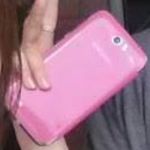 A curious little snap has been sent to our office, showcasing what appears to be a dual LED-equipped phablet device, allegedly the Samsung Galaxy Note 3. According to the source, these are people who work as testers for Samsung, infusing this with a tiny bit more credibility. That being said, we have to also admit that the device looks reminiscent of the Galaxy Note 2 in terms of design, though this would be the first time we hear of a dual LED flash Galaxy Note 2 variant.
This last tip comes after the hype machine around the Samsung Galaxy Note 3 literally made it rain, as the intensity and plausibility of leaks has been ramping up the closer we get to the official unveiling of the 5.7-inch phablet. Fortunately for everybody involved, this time around we know for sure that it won't be long until we get ourselves an official confirmation (or refutation), finally putting this, and a number of other expectations, to bed. Said otherwise, take this with a pinch of salt and simply hold on for just a little longer – we're truly at the end of what has been one long, if exciting, trek.
Stay tuned
for our incoming coverage of the Samsung Galaxy Note 3.