Is the myth of the 'drunk phone' true?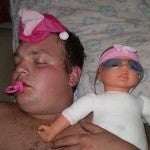 According to Advertising Age,
Laura Krajecki, chief consumer officer at Starcom MediaVest Group, has discovered a new trend amongst young adults
looking to save their expensive new smartphone from being damaged or stolen. Krajecki said she discovered that these young adults are grounding their costly models and
replacing them with a cheap 'beater phone' or 'drunk phone'
before going out for a night out at a bar or club. Some of these beater phones are featurephones that are much cheaper than the user's daily driver. The idea is to keep your expensive phone out of harm's way. A spilled drink, a drunken slip of the grip, or a pickpocket stealing your expensive new smartphone could sober you up quickly. But having a cheap featurephone at risk would mean not having to worry about protecting your phone and allowing you to have a care-free evening out.
But CNN has done its own research that indicates that the
'drunk phone' is a myth
, up there with Bigfoot, the Lochness Monster,
BlackBerry 10
and the Abominable Snowman. The cable network conducted its own survey in San Francisco last weekend and found a grand total of zero patrons at bars that carried a 'beater phone' with them. Even more interesting is that CNN discovered that no one they spoke with had even heard of the 'beater phone'. At one bar,
bartender Jerome Bishop told CNN, "

I've never heard of anybody doing that, but it doesn't mean they don't

."
If you were to bring a 'beater phone' or 'drunk phone' with you on a bender, most believe the best way to do it would be to purchase a pre-paid phone and use call forwarding to make sure that you don't miss a call while out. Of course, if you're too wasted to keep an eye on your smartphone, there might not be a reason to enable a phone to take your calls while out. You probably wouldn't remember the conversation the next morning anyway. And that brings us to a major advantage of using a 'beater phone' at the bar. Without Twitter, Facebook or other social apps available on cheaper featurephones, you'd be
less likely to write something while intoxicated that would be highly embarrassing to you the next morning
.
Do any of you use what would be considered a 'beater phone' or 'drunk phone?' Do you know anyone who does? Let us know by commenting in the box below.
source:
AdAge
via
CNN