Is the LG G3 secretly water-resistant? Check out this video and see for yourself!
26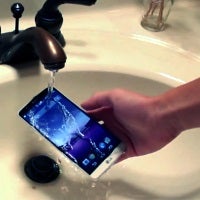 The
LG G3
is a smartphone full of surprises! Although its spec sheet reads like a high-end hardware apotheosis, water and dust resistance never made it to the final list. At least officially. But what did you know? Here's a video by Harris Craycraft, which shows how LG's flagship survives a variety of water torture methods, including being submerged under water for a full two hours, screen on and everything. Afterwards, the smartphone appears to work without a hitch!
Before you and the G3 go out for a swim, bear in mind the video doesn't show whether the USB port and speakers survived the forced bath. Also, we can clearly see that some water did manage to enter the handset's back panel, which means the LG G3 isn't completely sealed, and therefore protected against water ingress. But if anything, this demonstration should reassure you that your new G3 will end up mostly fine after an accidental shower. Once again, impressive engineering by LG!