Is that Motorola's 2008 line?
5

An interesting video appeared on YouTube.com. It looked as if it was Motorola's official presentation, revealing its models for 2008. Now, it is already taken down with the following reason given - "This video is no longer available due to a copyright claim by Motorola, Inc", hinting us, it really is authentic.
The video shows few of the already released models (U9, Q9h, Z8, Z10) and plenty of new unknown ones … we will preview them in the order, in which they appeared in the video.
The first one seems to have a large touch display on the front. Although the video is of a pretty low quality, we think this is a clamshell or a slider, instead of a candybar with the 'full touch' design.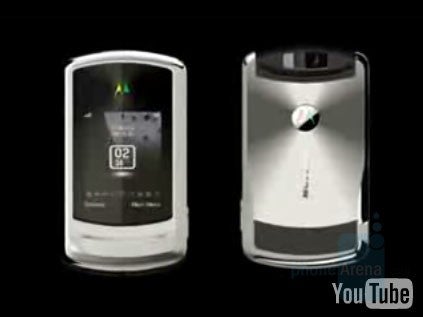 The second phone is a Windows Mobile Standard smartphone, probably coming as the successor of the Q9h. It has the same form-factor: candybar with landscape display and full QWERTY, but will most likely run on WM 6.1.
Last year, rumors about the first device made in cooperation between Kodak and Motorola appeared, but here we have another phone with the Kodak branding. There is no information about the specifications of that purple candybar, but we guess it is Motorola's first 5-megapixel cameraphone.
In addition to the E8 already announced, another ROKR with similar design is showcased. It is the next candybar with landscape display and MORPH-keyboard, but unlike the E8, has a standard D-pad instead of the digital scroll.
The other new phones, seen in the video are sliders … We are not really sure if there are three or one new model, but the clip shows black/red + black, red + silver, black + yellow variants.
Time will show if these will really be part of the 2008 Motorola line. Stay tuned for the CTIA 2008 show in April, where those are expected to be announced.
via
unwiredview