Is checkpoint snitch a hero or bad guy?
14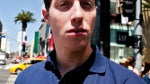 With the cops out setting up DUI checkpoints for the Memorial Day holiday, now is a great time to talk about
Mr. Checkpoint
. Sennett Devermont is actually the man behind the title. Co-founder of dating site DateUp, which was sold to IAC, Devermont sends out texts and tweets about police checkpoints in California as soon as he receives the information. And with 43,000 followers on the Mr. Checkpoint Twitter account, and 20,000 receiving the information via a text message, the alerts go out to a pretty large audience.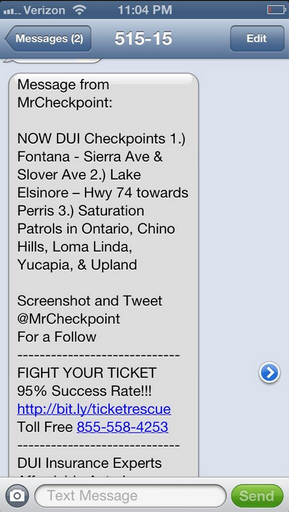 Typical text message from Mr. Checkpoint, note the ads on bottom
One stat thrown around by those in favor of Mr. Checkpoint's service is that knowing about the police activity in advance leads to a
20% drop
in DUIs and fatalities stemming from DUIs. But not everyone is a fan. MADD's Pat Rillera says, "
While we support the publication of checkpoints as a deterrent to drunk driving, sites like Mr. Checkpoint alert drunk drivers so they can evade arrest. It's not meant as a positive
."
While Mr. Checkpoint is free, the service is supported by ads. Devermont says that he has sent out
1 million texts
since the service started last August. His decision to provide this service might not have anything to do with profits or providing a service. It might actually be payback for a few incidents that Devermont has had with the cops. One time, he failed a field sobriety test while the breathalyzer showed no alcohol in his system.
The service starts with text messages beginning at 7pm each evening with information provided by the Los Angeles Police Department, L.A. County Sheriff's Department, San Diego Police Department and other police departments. To subscribe, one just needs to text NODUI to the number 51515. When subscribing, you are asked to check a box promising not to drink and drive. You can also sign up via Twitter or through the Mr. Checkpoint website.
Is Mr. Checkpoint a hero or bad guy? Does his service save lives or help drunk drivers avoid detection? Let us know what you think by dropping your comment in the box below.
source:
Mr.Checkpoint
,
LAWeekly
via
CNET