Is a redesigned iPhone in the works for the end of this month?
8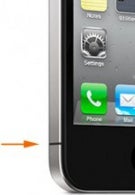 It has been some time since we have heard any mention of "Antennagate" in reference to the iPhone 4. As we
reported
, the Cupertino based firm started shipping out free bumpers to iPhone 4 owners back in July. The rubber in the bumpers prevents the phone from losing signal strength when the small gap between the two antennas on the lower left corner of the phone are touched by the users hand. Apple had promised to send the bumpers free to iPhone 4 buyers until September 30th.
That date is important because an executive of Mexico's largest mobile carrier, Telcel, has made a comment that when translated, seems to indicate that a redesigned iPhone 4 will be available at the end of this month. Marco Quatorze is the Director of Value Added Services for Telcel and after running his words through Google Translate, they come out as, "If the previous plan is over, you will need to hire a new change for iPhone 4. If, for example, already has one and take three months for payment, change the cell with a re-employment and takes into account the previous time, so instead of paying 24 months, only done in 21."
While Mr. Quatorze's comments are not so clear cut, the fact that the carrier expects some change in the iPhone 4 starting September 30th-the same date that Apple's free bumper program comes to an end-would seem to be more than a coincidence. Why would Steve Jobs select September 30th as the end of the free bumper program unless Apple's CEO had a plan in place that would commence at the beginning of October? If a new design for the phone is indeed launched, will owners of the current model get the opportunity to exchange devices? Sit tight iPhone fans, the answers to these questions and others should be revealed at the end of this month.
Apple iPhone 4 Specifications
|
Review
source:
Yahoo