Is Apple giving up on tablets, or is the new iPad a smart business move at $330?
37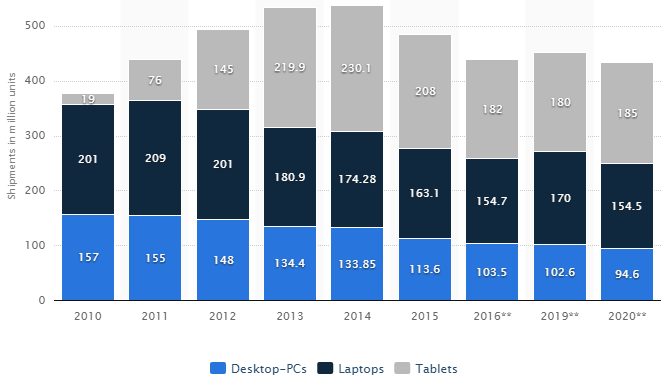 Tablet, laptop and desktop shipments forecast for 2020, from Statista
As you can see from the chart above, the tablet market is far from its heydays, and its growth is expected to stall for the sake of laptops, which are projected to grow in shipments. There are several reasons for that - people who got tablets in 2013 and 2014 are still keeping them around, and customers in the market for a computing device other than a smartphone now have much better choices in thin and light laptops. You can, for instance, now get the new LG Gram 13" laptop that weighs two pounds, or about as much as a tablet with a keyboard cover, but has larger screen, lasts 15 hours on a charge, and offers more storage.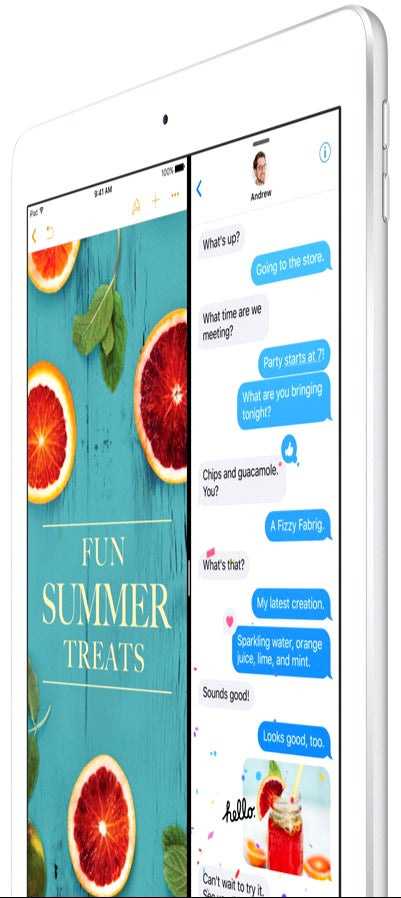 Apple has undoubtedly taken notice of these developments, that is why it unveiled a new 9.7" iPad the other day, two and a half years after its last
Air 2
slate, with a simple
press release
, eschewing the usual on-stage fanfare. The new
iPad 9.7"
, however, starts at just $329, whereas all of Apple's 10-inchers before it were $499 at their basic config. Given that Apple commands a quarter of the tablet market, and practically all of the high-end segment, the new iPad will inevitably start crowding out the competition. We gave the LG Gram example above to showcase how the new thin and light laptops can be more compelling than a tablet+keyboard combo, but there's one important caveat - you can't get the Gram for $330. The most you can get at that price would be a
Chromebook
, and that might be what Apple is targeting here, as Google's pseudo-laptops are
wiggling their way in the education realm
, encroaching on
Apple's educational focus for iPads
.
Will Apple still make money from the iPad at $329, though? Don't worry, when the
iPad Air 2
launched two and a half years ago, IHS estimates pegged the cost of its components and assembly at $275. The nature of the electronics' industry is that cost of components falls drastically over time, and the only upgrades worth talking about in the new iPad, compared to the Air 2, are a faster, A9 chipset, a "brighter Retina Display," and a new Touch ID finger scanner. Furthermore, given that the new iPad won't have the laminated display tech and anti-reflective coating of its predecessor, we wouldn't be surprised if the total cost to make this thing now hovers around the $150 mark. Thus, the new slate still offers a decent margin in terms of pure hardware, but let's not forget that Apple also makes bank on apps and subscription services.
This "service" business at Apple is growing much faster in revenue than the rest of its portfolio. The App Store, Apple Music, iCloud, iTunes, Apple Pay transaction fees, and so on, hauled in
no less than $6.325 billion in Q3
, which is a 20% increase year-on-year, and the profit margin from those is pretty high. Thus, the more iOS devices Apple gets in the hands of users, the more money it will make on the accompanying apps and media consumption from its software ecosystem over time. That is why we wanted to ask you if you think that a $329 iPad is just Apple acknowledging the challenges in the tablet market, and throwing in the towel by cutting prices, or is it a smart business move to capitalize on its ever-increasing revenue from apps and services? Needless to say, the two reasons for getting a crazy cheap iPad this season aren't mutually exclusive, so why not a little bit of both? Check your opinion below, and argue it in the comments.