Interesting GIF shows iOS 6 morphing into iOS 7
26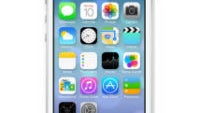 iOS 7 represents a very big shift in the way your next iPhone or iPad will look and feel compared to the previous six incarnations of Apple's software. Taken as a whole, its easy to see the change that the platform has made, but it isn't always easy to see the smaller changes that came to each icon. Luckily, there is a GIF to show you how iOS 6 morphed into iOS 7.
And, just in case you were wondering how these changes have come to iOS, the good folks at Gadgetlove.com who put together the GIF were thoughtful enough to add the changeover from Scott Forestall to Jony Ive into the morph. Forestall had been Apple's Senior Vice President of iOS Software, but left the company following the launch issues surrounding Apple Maps.
Jony Ive has been the lead designer for Apple hardware for years, and he was given the task of redesigning iOS once Forestall was out. Ive came up with the flatter, more heavily translucent, and more brightly colored version of iOS. So far, iOS 7 has been in beta, but it will be officially released on this coming Wednesday,
September 18th
.