Intel teams up with Fossil to collaborate on wearables
8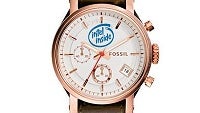 Everyone wants a piece of the latest rage in mobile, wearables. Intel announced that it has entered into an agreement with Fossil Group, known for fashionable watches and accessories, to develop wearables for the mobile jet-setting crowd.
Intel is making a big push into wearables as a way to find a stronger role in mobile as a whole. The theme of this year's Intel Developer Forum is weighing heavily on wearables, and the company plans to reveal greater insight to new device ideas, partners, and wearables in particular.
Fossil will also work with Intel's venture capital unit to identify investment opportunities in order to get a better foothold in emerging wearable technology ideas. Fossil will benefit from the technical perspective Intel has, and obviously Intel gains a bit on the fashion side of the house with an outfit like Fossil in the game.
No product goals were announced, but we may get more of an idea of what Intel and Fossil will be working on during the Intel Developer Forum in San Francisco this week.
source:
Reuters