Intel demos mobile chip so frugal it can be powered by wine, still recognize you by the way you walk
13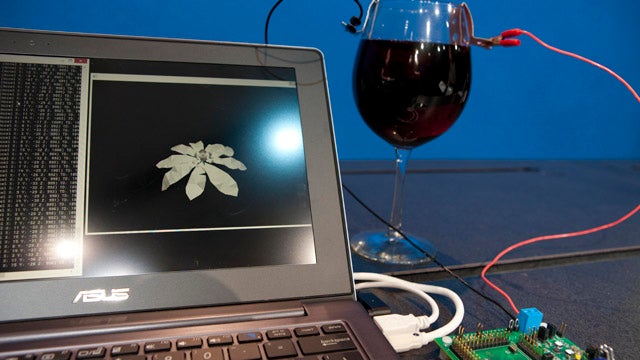 Mobile processors have reached the point where they are so powerful that there's rarely an app or task that uses their full capacity, not to mention the
64-bit A7
's prowess that will go largely underutilized for now. The next step, however, are the super-frugal dedicated processors of the future that can power supplementary always-on endeavors like speech recognition or movement sensitivity. Motorola used a dedicated low-power chip for the speech telling abilities in its
X8 chipset
, while Apple made a separate M7 one for the always-on
motion
sensing tasks, for instance.
Such low-power processors will be needed a lot more in the future, but how little energy can they consume? Very, it turned out at Intel's Developer Forum, as the maker just demoed a chip that got powered entirely by... wine. That's right, they plunked two electrodes in a glass of red, and the chemical reaction with the acetic acid created current, which then flew to the processor, energizing it for simple tasks that will be needed on a 24/7 basis in our always-on mobile devices.
Intel has been getting very good at lowering the power draw of its chipsets lately, and its renewed focus on mobile means only good things for us users going forward. The chip maker also demonstrated biometric ID technology that goes beyond passwords, like
Apple did with Touch ID in the iPhone 5s
, and recognizes you by your voice characteristics, or even by the way you walk, using accelerometers and such, so plenty of usage for those low-power dedicated processors in the not so distant future, it seems.