Intel CEO says there will be sub-$100 tablets this holiday season
7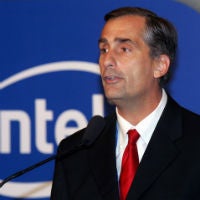 There has definitely been a price war going on in the 7-inch tablet market, and according to Intel CEO Bryan Kraznich the prices will hit a new low this coming holiday season. In speaking at the 2013 Intel Developer Forum (IDF) in San Francisco, Kraznich said that he believes there will be tablets that break the $100 price barrier in the next few months.
Now, there have obviously already been tablets to come in at under $100 in the past, but all of them have been pretty terrible. Most of the tablets come from companies that you'd never recognize if you didn't trawl through the bargain bin at Walmart. On that point, Hisense recently dropped its Sero 7 tablet down to just $79. Kraznich didn't specify, but we're hoping that he's talking about tablets from reputable companies dropping below that price barrier.
Kraznich also didn't specify if the tablets would be running Android or Windows RT, but it would certainly be an aggressive move by Windows OEMs to drop a few 7-inch tablets for $99 this holiday season. We're still looking towards those
sub-$200 Android laptops
that Kraznich talked about before.