Insider trading investigation linked to iPad leaks leads to four arrests in the US
7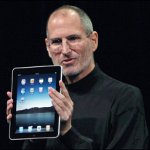 Well, now it seems clear where all these rumours about the iPad (code-named
K48
) that were eventually proven to be true came from. Or, at least, an investigation in the US, that led to four arrests, alleges so.
Three executives and one salesman for "an expert network firm" were charged with insider trading practices. One of the said executives, named as
Walter Shimoon,
is suspected for the Apple leaks as court papers report intercepted phone calls in which Shimoon, a senior director of business development at
Flextronics
, (a company that supplies Apple with adapters and other parts) revealed inside information about the then-unannounced iPad. According to the court papers, in an October 2009 telephone call, he said:
"At Apple you can get fired for saying K48 ... outside of a, you know, outside of a meeting that doesn't have K48 people in it. That's how crazy they are about it."
It's a fact that details about the iPad were heavily leaked prior to its release, so we guess he (and others) revealed a little bit more about the K48 project than the above quote. Since this investigation is ongoing, we can expect more information to pop up on the subject, so stay tuned.
source:
Reuters