Infographic: 75% of customers think the iPad Pro is redundant, but the iPad 2 is the most traded-in iPad of 2015
27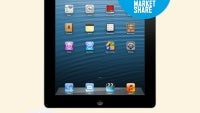 The iPad Pro is upon us, in all the glory an oversized iPad could muster.
We had the good fortune of reviewing it already
, and those with the need for Apple's most superior iPad to date and the thick pockets needed to acquire it are able to purchase it. But how many types like that do actually exist out there? That's a good question to throw Apple's way, because the iPad Pro is, for all intents and purposes, a niche product.
In this line of thought, our good friends at CompareMyMobile took upon themselves to shed some light on that question and iPad trade-in matters with the awesome infographic below. And what do you know, according to their survey, it turns out that over 3/4 of the people participating don't really see the need for an iPad Pro.
Chiefly, the iPad Pro has been tipped to attract business customers – yet of those surveyed, 57.7% said they would use it at home, compared to just 1.9% who would use it in the office for business. Huh? Something doesn't really check out here, does it?
Still not sure what to make out of all of this? Ashley Turner, co-founder and director at CompareMyMobile, thinks that the iPad Pro could appeal to PC users and iPad lovers looking to upgrade, but it will be most interesting to see how many consumers will really warm up to the device.
"With Christmas on the horizon, it is prime time to see if it becomes a gadget must-have or not."
- he reckons. Makes a whole lot of sense!
Meanwhile, data shows that the iPad 2 is the most traded in iPad model of 2015, holding a whopping 30.5% of iPad trade-ins. Meanwhile, the iPad first generation has plunged in value by 50% this year. The iPad Mini took the next biggest tumble, falling 38.5% since the beginning of the year, while the iPad Air 2 fell 32.8%.
The infographic is available for your viewing pleasure below, courtesy of CompareMyMobile.
source:
CompareMyMobile
Recommended Stories