Infinity Blade II arrives at the App Store, pushes your A5 chip to the maximum
16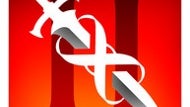 Infinity Blade II has now finally arrived
at the App Store! Infinity Blade already broke mobile gamers perception about jaw-dropping graphics and the sequel promises to squeeze even the juice out of that Apple A5 chip. Infinity Blade II runs on the Unreal Engine 3 and developer Epic has put the needed polish to make it look impressive. So is the
price
tag - at $6.99 on the US App Store, the game is among the more expensive ones on the App Store, but hardcore mobile gamers probably won't even hesitate to download it. And it's a heavy download - the game weighs 941MB, so you'd better make sure you have a solid Wi-Fi connection while it gets pulled.
Infinity Blade II picks up
the story
after the death of the God King, which was your biggest enemy in the first game. In the sequel, you have to discover the secrets behind the Infinity Blade and go deeper into the world of Deathless tyrants and Titans. That journey is complemented with dynamically changing backgrounds including exotic landscapes like the Asian Saydhi's estate and Medieval-themed Vault of Tears.
The game truly shines on the iPhone 4S and iPad 2, which both come with
Apple's A5 chip
and the amazing Power VR SGX543MP2 GPU. Infinity Blade II is also compatible with the iPhone 4, 3GS, iPod touch 3rd gen and higher, and the original iPad, all expected to work on iOS 3.2 or newer, but it will lose some of the flare. Epic's recommendation is for you to have the latest iOS 5. With the release of the new title, the company cut the price of the original Infinity Blade to $5.99 for a limited time.