Individual sends $10 Haiti SMS donation using live phones in AT&T store
This article contains unofficial information.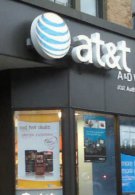 Either this individual sought out to play a prank or conceived a brilliant plan on helping out those in Haiti thanks to the help of live AT&T phones. We've all visited our specific carrier stores to play around with all the latest phones that we know we can't all have. So if you simply need to make a quick phone call and forgot your handset at home, you could just stroll in casually to any carrier store and use the actual live phones to place a call – or even send a text message. That simple idea gave this one individual this ingenious strategy by texting HAITI to 90999 in the working phones located at the store – basically he donated money to Haiti on AT&T's behalf. Now it's unclear whether or not AT&T will release the funds, but this is definitely one plan that's sure to make you think twice the next time you pay a visit. Whatever your thoughts are about the situation, we'd guess that this person is probably getting a lot of "why didn't I think about that" thoughts from people all around.
via
Gizmodo