Inferior fingerprint scanners to wiggle under midrangers' screens
8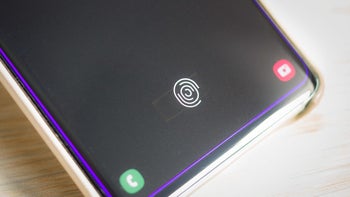 Like it or not, the fingerprint readers that can be hidden under the phone's display, are here to stay, and are about to become ubiquitous. Patron, a Samsung supplier, is expecting to hit nearly a billion dollar revenue this year, on the back of the increased amount of camera modules and, yes, in-display finger scanners.
So far, such readers have been reserved mainly for the high-end models, but Samsung is planning to equip its midrangers with said under-screen biometric components,
tips Korean media
, starting with the new
Galaxy A80
and its intriguing pop-up rotating camera.
The midrange Galaxies that will be anointed with the in-display readers, however, will have scanners of the cheaper and a tad slower optical variety, while the ultrasonic fingerprint modules will be reserved for the Galaxy S and Note lines.
This trend for using predominantly optical readers will hold for a while, it seems, as research firm IHS envisages a breakneck pace of in-display finger scanning growth - from 30 million last year to 180 million in 2019 - but only a fraction of those will be ultrasonic.
In fact, as you can see from the IHS graph below, even in 2022, when we should have ten times more phones with the technology than last year, ultrasonic finger readers for display installment are expected to be a fraction of the total base. Oh well, hopefully the optical readers will be getting better with each iteration then.