In Q3, Android tablets generate more revenue than iOS for the first time
34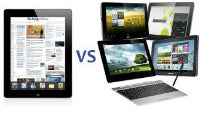 Android tablets have been overtaking the market at a higher clip recently, and have been outselling Apple's tablets for a while now. But, as is Apple's aim, the iPad has continued to pull in more revenue than all of the Android tablets combined, until this last quarter. According to new data for Q3 of 2013, Android tablets generated more revenue than iOS tablets for the first time.
Morgan Stanley's Katy Huberty said in a research note that for the first time, Android tablets earned 46.2% of the revenue share for Q3 2013, which bested Apple's revenue share of 45.6%. Of course, in order to beat Apple in revenue, Android manufacturers had to ship more than twice as many tablets. Android's share of units shipped grew to 66.7% for the quarter (up from 58.5% year-over-year); and, Apple saw a big drop from 40.2% in Q3 2012 to just 29.7% this year.
The growth in the Android tablet market was said to be due to strong sales by Samsung and Lenovo. Q3 was expected to be a slower quarter for Apple since it had the new iPads ready for release in Q4, but that is still a precipitous drop from last year. It certainly looks like this may not be the last time that Android out-earns iOS in the tablet world.