In 2017, smartphones and tablets will account for 75% of all Internet traffic
16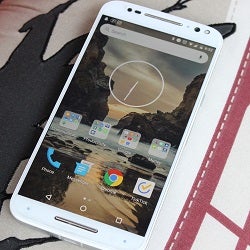 If one thing's for certain, it's that mobile technology is an undying beast that continues to grow and mature with every single day that passes. From brilliant innovations to subtle refinements, every change and update that we see pushes the industry forward in some way shape, or form. As such, more and more people are getting their hands on devices than ever before. Along with becoming more powerful and intuitive, prices have been decreasing dramatically as well. As a result of all this, a new report from Zenith shows that, in 2017, a whopping 75% of all Internet traffic will come from mobile devices.
To put things into a better perspective, smartphones and tablets only accounted for about 40% of Internet traffic back in 2012. A jump of 35% over the course of just 5 years is insanely impressive, and those numbers only look to be on the rise even more. This year of 2016 showed that mobile devices accounted for 68% of Internet traffic, and that number is expected to grow up to as much as 79% two years from now in 2018.
Where in the world is mobile the most popular though? Zenith reports that Spain is currently the country with the largest amount of Internet usage that comes from mobile devices with a number of 85%. As for the country where smartphones are the most popular, Ireland showcases an impressive number of 92% of citizens that own a smartphone. Spain comes in not far behind at 91%, and as mobile tech continues to grow and become more affordable, we should fully expect to see similar numbers in many more countries around the world.
As one might expect, this increase in usage of mobile devices for Internet access has played a big part when it comes to online advertising. Zenith crunched the numbers here once again, and they're predicting that 60% of all global advertising revenue for the year of 2018 will have an incredibly strong focus on mobile devices. Just how much is 60% though? That equals out to a lump sum of around $134 billion across the entire world, making it larger than marketing and advertising budgets for outdoor advertising, magazines, newspapers, and movies combined together.
A mobile-driven future does appear to be the world that we're currently living in.
The numbers that Zenith is reporting are almost jaw-dropping, but a mobile-driven future does appear to be the world that we're currently living in and headed towards even more. Devices like the HP Elite x3 try to make a mobile device your one-stop solution for all of your computing needs, and with numbers like what Zenith is showing, it wouldn't be all that surprising if we started to soon see more and more smartphones and tablets that try to be the one and only computing device that you need.
The state of mobile tech and its usage in 2016 certainly is interesting, and that only looks to be increasing even more so in the coming years.