Images of iPhone 5S leak in... gold?
13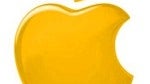 Before we begin entertaining the possibility of this not being a fake, we're going to admit that, well, it probably is. In fact, the only other piece that supports the notion of an upcoming iPhone 5S in gold is
a piece we published a month and a half or so ago
. That, and perhaps the expectation that the 5S won't differ from the 5 physically, makes the below a smidge more plausible.
Either way, it is Monday and most of us need to jump-start our week – drooling over a good looking, albeit unlikely, iPhone 5S to start off your day surely counts for something!
Salty disclaimers aside, two leaked photos of a golden iPhone 5S sitting next to (and on top of) a white iPhone 5 have surfaced on the net. Origins? Unknown, but the source is from China. As you can see, the two phones look and seem to measure exactly the same, squishing what hope there is for
a 5S with a larger screen
.
Enjoy!
source:
ictech
(Weibo)