Images of NVIDIA's Tegra Tab leak out, it's a quad-core Tegra 4 tablet
7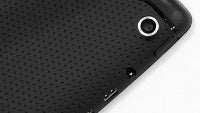 Most of you probably still think ofNVIDIA in terms of graphics, but the California-based company is hardat work to change that notion, or so it would appear. What thegraphics chip maker started out with the NVIDIAShield is just the beginning, according to rumors, forseveral signs point towards atleast two tablets already in the making.
While the first, more premium tabletcontinues to elude us, its less-fancy sibling has already beenflushed out into the wild, providing some high-resolution snaps alongthe way for us to see. This tablet is very likely the so calledNVIDIA Tegra Note Premium that graced GFXBench just recently – a1.8GHz quad-core Tegra 4-equipped slate running on a resolution of1280x736 and touting Android 4.2.2.
Visually carving out what the TegraTab is and looks like sure is welcome, but the snaps out of Chinafurther provide some valuable information. Namely, while we're onlyshown the back of the device, it does appear to be a 7-inch tablet,as we suspected. According to the source, the camera on the back is a5MP shooter, and we can also make out a Micro HDMI port and a SIMtray along with a 3.5mm audiojack. Stylus support has been hinted, but we have no confirmation sofar.
While NVIDIA's foray into the tabletmarket probably won't turn too many heads, it's interesting to seewhether the chip maker will manage to carve out a piece for itself.
source: MyDrivers viaGSMInsider, Techkiddy