Images of Intel UI for Tizen leak for all to see
20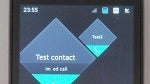 The user interface is codenamed "Obsidian," and it is part of a vision to bring a new user experience with the upcoming Tizen mobile operating system (and possibly Android in the future).
For those that do not know, Tizen is backed by the Linux Foundation. Samsung has been a major driver behind it and plans on launching Tizen equipped handsets later this year. However, that debut will be primarily in far eastern markets.
While Intel has been able to plant some of its chips in Android devices, there has been no formal announcement about Intel powered hardware running Tizen. One would think that since the semiconductor giant is developing its own UI for the platform, that makes such future support a foregone certainty. However, since Intel has not commented publicly about a UI for Tizen, that means this could all be for some other purpose.
As for the UI itself, do not take anything here as a final design, it is clearly still being developed, but from the looks of it, Intel will be adopting "flat" schemes that we have seen in Android and Windows Phone. The rest of the set up is sort of crowded in a way. Notifications can be determined by icons that turn themselves 45 degrees to appear as diamonds versus an upright square.
In some instances, selecting an application results in a preview pane being displayed. Then you can handle basic tasks without opening the full app. The three persistent buttons on the bottom of the display, phone, messages, contacts, are soft keys and not intended to be hardware type on-screen buttons like we see with Android 4.x (on a Galaxy Nexus, Nexus 4, Motorola, etc.).
The Intel reference device that will have Obsidian installed has been codenamed "Josephine" and that was originally been scheduled to happen next month. However, it looks like the schedule is getting pushed back. That could be because the development team at Intel has not been able to test Obsidian on the newest version of the Tizen OS yet.
source:
Ars Technica