Image, specs, and price of an LG G4c leak out, it's a smaller, less powerful G4
26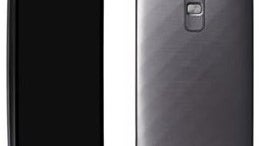 "Mini" versions of flagships, with lesser hardware and a more affordable price tag, are nothing new, even though we haven't yet seen an HTC One M9 mini or Samsung Galaxy S6 mini. We won't be seeing an LG G4 mini, either, because that's not how the company rolls. Instead, it affixes a lowercase "s" at the end of the name to signify a phone's position as the budget option that takes after its flagship. So last year we had the
LG G3 s
. Now, however, it's looking like LG is going in a slightly different direction with a device called LG G4c.
We surmise as much from a number of new online listings on German seller's sites, all of which refer to an LG G4c (H525N). Obviously, an LG G4 s could still be somewhere in the pipeline, but we can't be sure of it at this point. What seems far safer to assume is that the G4c is a budget-friendly mid-ranger that takes after the G4 flagship.
If true, what deal is LG proposing? Well, for anywhere between €279 and €300, you're getting a 5-incher with 720 x 1280 pixel resolution IPS screen (294 ppi), a quad-core Qualcomm Snapdragon 410 processor, 1GB of RAM, 8GB of expandable storage, and a 2,540 mAh juicer. On the imaging front, we're looking at an 8-megapixel main camera with an LED flash sidekick, and a generous, 5-megapixel selfie snapper up front. The config is powered by Android 5.0 Lollipop, no doubt with
LG's own UX 4.0 skin on top of it
.
It's not a terrible deal, but neither is it a great one, especially when you consider much cheaper options such as the Moto G. Granted, Motorola's mid-range warrior is slightly less impressive hardware-wise, but it currently sells for €179 on
Amazon.de
, which is a significant discount. With that in mind, would pick a G4c if it comes to market with said specs and at said price?