Image reveals release dates for Sprint phones
3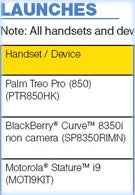 An image with information about upcoming Sprint phones has leaked by BlackBerryHomePage site. A quick glance at it reveals information on the possible release dates and prices of some interesting handsets. We lean towards it being real, since the launch date of the
Palm Treo Pro
shown here (March 15) meets the
official one
, announced by Sprint a few days ago. However, it seems like Brightpoint will be getting it a bit earlier, on March 11 at a price of $549.99. What also makes us think the picture isn't lying, is that it says the
Motorola Stature i9
, expected to come with Sprint
shortly after it is released by Boost Mobile
(which has already happened), is scheduled for a March 15 launch, and still Brightpoint will have it in 11th the same month for $399.99.
There are more release dates, listed in the image, including ones for the yellow
Motorola i580
, the
LG Rumor2
and the camera-less BlackBerry Curve 8350i. The first one should be expected at the same time as the Treo Pro and the Stature i9, at a price of $269.99. The situation with the Rumor's successor, however, is not that "bright". It looks like there is a part of the picture that is missing and we cannot get a clear thought on when exactly the device should be expected or for how much. We have two dates here – 3/15/09, labeled "for the Black" (the handset is actually marked as "LG Rumor2 in Black Titanium"), which might mean that the Black Titanium version would be then available, and the other date is "3/29/09 tentatively". We would not try guessing which one is correct and will leave the speculations to you. Finally, we have the camera-less version of the
BlackBerry 8350i
for the iDEN network. Unfortunately, this one's launch date seems to be still a subject of discussion, but at least it has a price on it - $479.99 before subsidies.
This image is not provided by Brightpoint, so it may not be real.
source:
BlackBerryHomePage
via
BerryReview