Sprint to offer the Motorola Stature i9 very soon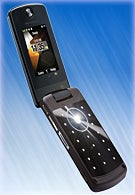 You remember the Motorola i9, right? It became popular as the first really good-looking iDEN phone. Well, we have some good news for you – the waiting is almost over and the hot device will be ready to spread its sexiness by the end of the month. Sprint has announced in a press-release today that its name will now be the Motorola Stature i9 and that it'll be put for sale by both the Sprint Nextel channels and Boost Mobile. For those of you that do not remember this clamshell marvel, we'll remind you that it'll not only the one of the first rather thin iDEN phones (measuring 15 mm), but will also be quite feature-rich, packing two large displays (the main one will be 2.2-inch, and the additional one will be 2.0-inch), a built-in GPS, a 3MP camera with autofocus and flash and a microSD card slot. A nice feature will be the incorporated ModeShift technology, which will enable the exterior keys to change an illuminate, according to the application that you're currently running.
The Motorola Stature i9 will be available through Boost Mobile, at a contract-free price of $299 by the end of February. Shortly after, you'll be able to get it through all Sprint channels at a price of $199 with a two-year service agreement and after a $50 mail-in rebate.
Motorola Stature i9 Preliminary Specifications
source:
Motorola