If you are out on the town having a few drinks? BACtrack will let you know when to take a taxi
0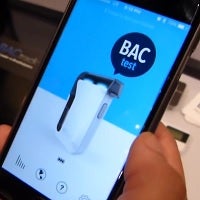 Ever wonder if you have had maybe one too many drinks after a night out with friends? Then, do you ever wonder how you get your car back to the house if you opted to take a taxi or the bus home?
BACtrack has some user accessible accessories that can take a sample of your blood alcohol content (BAC) without condemning you to a legal sobriety check. Like all the other activity trackers in use today, BACtrack offers up the ability to track your liquid diet per se.
The iOS or Android app lets you anonymously share your data. BACtrack aggregates the data and ties into other regional and social events to come up with interesting observations like which region was drinking more during a sporting event.
The apps are stand-alone, so you do not risk tying into your vehicles ignition switch, but again, if you get behind the wheel, and you took a measurement, it would be hard to say you didn't know. This can be a handy tool for those that have court ordered breathalyzer ignitions in their vehicles, avoiding a vehicle shut-down, and giving them the chance to make the right decision before getting behind the wheel.
The BACtrack Mobile retails for $99 and can be found on any major online or in-store retailer. It offers "law enforcement grade" accuracy, and connects via Bluetooth to BACtrack's mobile app.