If Elop takes over Microsoft, he might sell off Xbox and bring Office to iOS and Android
46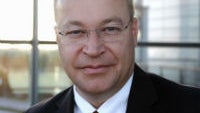 The general thinking is that Stephen Elop is one of the leading contenders to take over as Microsoft's CEO once Steve Ballmer steps down; and, once the Nokia acquisition is finalized, Elop will certainly be the number one candidate within the company. But, a new report is saying that Elop could be willing to make some drastic changes if he gets the CEO spot including supporting iOS and Android more.
A new report from
Bloomberg
says that Elop would want to focus Microsoft on its core competencies if he gets the CEO chair. That would mean putting more effort into Office, and bringing the software to a wide range of platforms including iOS and Android. It would also mean an increased focus on Windows itself, and that would mean jettisoning newer products like Xbox and Bing.
Bing would obviously be the first on the list, because it has been a costly endeavor to take on Google, and it hasn't offered much value to Microsoft. The idea that Elop could sell of Xbox is one that seems much less likely. Xbox has been extremely successful for Microsoft, and the Xbox One really has the potential to pull together the "3 screens and a cloud" vision that Steve Ballmer had. It was one of the better ideas that Ballmer had, and one that other companies are also working towards. Apple has the iPhone, iPad, Mac line, Apple TV, and iCloud; Google has Android running on devices from phones to TVs and is the king of the cloud; and, even Canonical is working towards putting Ubuntu on multiple screens and combining it with Ubuntu One cloud services.
It would be very strange to see Microsoft ditch one of the most successful brands it has in its stable, but Nomura Holdings analyst Rick Sherlund said the sale of Bing and Xbox could lift fiscal 2015 earnings by 40%. So, there are reasons why the move might make sense.