Ice Cream Sandwich tablet interface found inside Galaxy Nexus
7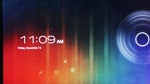 So now that the Samsung Galaxy Nexus has been out for a whole day, obviously someone should have broken into it and found something cool by now. Michael Crider over at Android Community has done just that.
Crider states that when Google said that Ice Cream Sandwich would swap interfaces depending on the type of device it was running on, he got to thinking about the smartphone launcher that was found hidden in Honeycomb. After rooting his new Samsung Galaxy Nexus, he changed the LCD density to a lower value; in essence tricking the phone into thinking it had a ten-inch screen, and presto, a basic tablet interface running on a Galaxy Nexus.
While the trick works, the phone is pretty much unusable in this state, unless, as Crider says, you have "tiny fingers and amazing eyesight." He does suggest that this could prove to be quite useful when using the phone with an external display such as a television or a projector.
There are more in-depth instructions on how to do this over at Android Community, but as he warns, the procedure gives you a good chance at breaking your new phone.
source:
Android Community
via
SlashGear
Recommended Stories