IHS: 25% of new smartphones launched next year will feature a Force Touch type display
84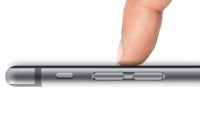 Next year, we should see more and more smartphones come to market with a fingerprint scanner. And pressure-sensitive screens are beginning to become a regular feature, too. According to IHS, 25% of all new intelligent handsets launched in 2016 will come with a Force Touch style display. This feature allows the screen to distinguish between a light touch, a regular touch, and a heavy touch on the glass.
Each different touch can launch something different. Apple's 3D Touch uses a light touch to "peek" into an application, while a heavy tap will "pop" the user into that feature. For example, a light touch can allow a user to see a preview of an email, while a heavy touch will open up that email on the screen.
Besides the Apple Watch,
Apple iPhone 6s
and
Apple iPhone 6s Plus
, the
Huawei Mate S
also comes with a Force Touch capability. The feature is different from the long touch widely used on other phones. The latter is based on the amount of time that the screen is pressed, while Force Touch depends on the strength of the tap on the screen.
IHS says shipments of Force Touch modules will rise 317% to 461 million units next year. The research firm sees the module placed inside high-to mid-range phones launched next year. The research firm says that Apple's use of Force Touch on the Apple Watch, and 3D Touch on its latest handsets, are behind the decision by handset manufacturers to include the feature on their own phones. And this has led to the increased production of the modules by the supply chain.
In addition, production of in-cell and on-cell displays will increase over the next few years. Both allow for thinner displays. According to Calvin Hsieh, director of touch and user interface research for IHS, shipments of in-cell and on-cell panels will account for 40% of all mobile phone touch panel deliveries this year, rising to 50% in 2018.
source:
Digitimes