IE9 voted as the most exciting new Windows Phone Mango feature
9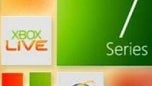 Among
five hundred new features
you could easily get lost, but which one was the
end-all be-all feature
of the recently unveiled Windows Phone Mango update? The Facebook fans of the platform have casted their votes on the question "What Mango feature are you most excited about?" and curiously enough the crown has gone to Internet Explorer 9, which overshadowed such new additions as the introduction of multitasking, threads and group messages in Microsoft's platform.
At the time of the writing of this article,
IE9 was holding the first place with 1,431 votes
out of the total 3,148. The browser underwent a major change getting
full hardware acceleration
, but on the downside it doesn't support Adobe Flash. The possibility to
multi-task
with third-party apps was a close runner-up collecting 1,167 of the votes.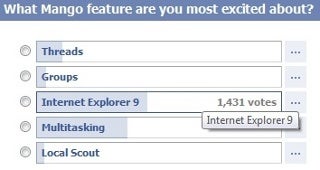 A distant third ranked the newly added
threads to conversations
giving you an uninterrupted view of your texts, chats and messages. The
group messaging
feature was valued as the most exciting one for 122 of the voters, while the
Local Scout
addition to Bing search showing you where nearby bars and restaurants are ranked last with only 97 votes.
The Mango update is expected to roll out
early fall
, so any discussions about the features among users are currently based on what they saw rather than experience, but with that in mind, what struck you most about Mango? Don't hesitate to share your opinion in the comments below.
source: Windows Phone (
Facebook
)
Recommended Stories