IDC: Smartphone shipments hit a record 1.43 billion units in 2015
11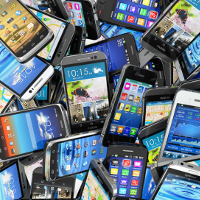 According to IDC, a record 1.43 billion smartphones were shipped globally in 2015, an increase of 10.1% over last year's number. For the fourth quarter of 2015, shipments hit 399.5 million units, a rise of 5.7% from the final three month period of 2014. Samsung led the way in the fourth quarter, shipping 85.6 million handsets world-wide for a 21.4% market share. That was up 14.1% from the 75.1 million phones that Sammy delivered a year earlier.
Apple was number two and shipped 74.8 million units in the period. That was up .4% from the 74.5 million Apple shipped during Q4 2014. Samsung's market share lead over Apple has expanded over the year from .2 percentage point to 2.7 percentage point. Third place Huawei had a strong fourth quarter as shipments rose 37% year-over-year to 32.4 million. The company's share of the global smartphone pie rose from 6.3% to 8.1%.
Lenovo was fourth in the fourth quarter, shipping 20.2 million units to grab a 5.1% share. That was a whopping 43.6% gain in handsets shipped year-over-year. And right behind in fifth place was Xiaomi. With 4.6% of the market, the company delivered 18.2 million handsets from October through December. That was up from the 16.5 million units that the company shipped during the same quarter last year.
For all of 2015, Samsung shipped 324.8 million smartphones for a leading 22.7% share. That was up 2.1% year-over-year. Apple saw its shipments soar 20.2% over the year to 231.5 million units, good enough for 16.2% of the global market. Huawei (106.6 million), Lenovo (74 million) and Xiaomi (70.8 million) rounded out the top five.
source:
IDC
via
CNET