Humor: You can't please everyone, despite all of WWDC's announcements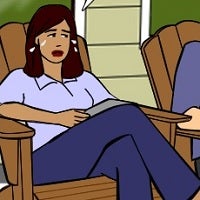 No doubt WWDC's keynote address was full of some pretty neat announcements. OS X Yosemite is pretty cool, and stays true to Apple's computing experience. Of course, here at PhoneArena, we were focused
more on what iOS 8
was going to bring to the table.
In broad strokes, it can be said that Apple made significant all-around improvements, but nothing in the way of appearances, and no indication of anything on the wearables front.
For all the updates brought to iOS 8, if you were all excited about the possibility of an iWatch announcement, your expectations were not met. That said, it was not expected to make a debut at WWDC, and
we shared that expectation
as the developer's conference was about to get underway.
It does make sense that an Apple wearable announcement would be worthy of an event all its own, even separate from a new iPhone introduction. How, when, or if we see that happen is a matter for continued conjecture.
Still, there is no consoling some people, the ultra-devoted fan, waiting with bated breath for the pinnacle of all features and products, all in one big giant announcement. Alas, we all know things do not go that way, and that ultra-fan can only be consoled with a hug.
source:
The Joy of Tech