Humor: What's really going on at Google
9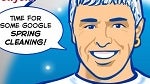 Google is always in the news over something, but the past several days have been quite noteworthy. Andy Rubin, co-founder of Android and head of the Android team after Google bought the company, is
stepping aside
and embarking on a "new chapter within Google."
We also learned that Google intended to
shut down its popular RSS reader
product in July, an announcement that will likely remain an interesting point of discussion for some time.
So what's really going on at Google? The comic geniuses at Joy of Tech know, spring cleaning of course! It's that time of year! Roll up your sleeves and start scrubbing! With handy cleaning products like "Andy Out," you'll rub those éclair, gingerbread, ice cream and jellybean stains right out!
"Scrubbing Reader" says it right on the box, "One press release, and all your feeds go down the toilet!" It is truly a one step sanitizer! Use with caution however, the warning states that some users may explode in rage.
Clean up the rest with RSS, Really Spic-and-Span, no hard feelings! If you scuff yourself up which scrubbing away, try the "Band-Aid" solution, hurt free RSS exporter guaranteed to soothe the fear over Google canceling other goodies like Gmail.
source:
The Joy of Tech