Humor: What to expect from Apple at WWDC
11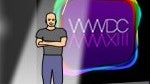 WWDC is going to be notable for a few reasons this year, particularly when it comes to iOS. This will mark the first version of the OS without Scott Forstall in the picture, instead being shepherded by Jony Ive and Craig Federighi.
We are expecting something "flat" and hopefully more than just a simple visual overhaul of the operating system, as the perpetual grid of apps with no dynamic icons (save the calendar app that at least shows you the current date) is quite stale.
We will certainly see Jony Ive (possibly a stunt double), Tim Cook and maybe Grumpy Cat will signal the launch of a new Mac OS X. The finest developers might find knighthood, and the worst ones might get skewered. Because "flat" is the new skeuomorphic, a steamroller may be on hand to flatten the developers' apps out.
Of course, we do not think anyone would complain if Jeri Ryan showed up. Yep, it could be quite a keynote indeed.
source:
The Joy of Tech