Humor: First generation iPhone, mother of the modern era of smartphones, celebrates Mother's Day
35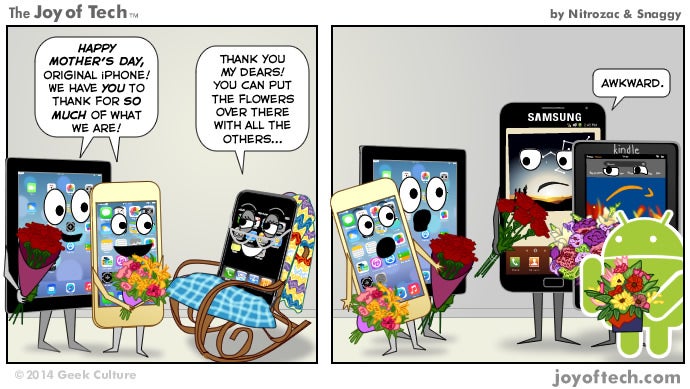 Few days get the florists in a tizzy like Mother's Day. Around the world bouquets of arrangements, large and small are being prepared to be presented (possibly with breakfast in bed) to good old mom.
While the
original iPhone
is not the first smartphone by any measure, it is the device that started a revolution in the modern era of mobile communications. Today, that device is a collector's item now in some circles.
An original iPhone, still factory sealed in its box, was attracting bids in the thousands of dollars on eBay, though we doubt if any money ever changed hands. An engineering prototype of the first generation iPhone did sell for about $1,500. If you look around today, you will still find other folks trying to sell used first-gen iPhones for way too much money.
Either way, that makes the iPhone the mother of touch-screen smartphones in a way. So it is fitting in the witty minds behind The Joy of Tech that the
iPhone 5s
and
iPad Air
would pay homage to momma-iphone. Of course, using that logic, it would seem fitting that Android, an early Samsung Galaxy and Amazon Kindle might do the same.
Indeed, that would be awkward, but not as awkward as not calling mom on Sunday. Happy Mother's Day.
source:
The Joy of Tech